What is tastier than Italian food? If anything is it the delicious sounds of the Italian tongue with its rich assortment of proverbs sayings and quotes.
tutto finisce a tarallucci e vino

it all ends with biscuits and wine
Want to learn Italian?     Italian Radio     Italian E-Books and Magazines    Italian Cartoons  
fare polpette di qualcuno–
to make meatballs of someone
fare una spaghettata
to eat spaghetti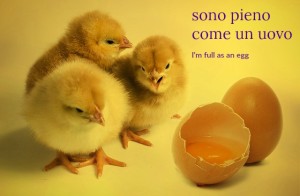 sono pieno come un uovo
I'm full as an egg
Buon seme dà buoni frutti.
Good tree makes good fruit.
Meaning: Good parents will make good children due to example followed closely and daily.
conosco i miei polli
I know my chicken
Chi dorme non piglia pesci.
Those who sleep don't catch any fish. or Early to bed and early to rise, makes a man healthy, wealthy and wise.
Ciò che Dio fa è ben fatto.
 Each day brings it own bread.
I frutti proibiti sono i più dolci.
 Forbidden fruit is sweetest.
Non si può aver il miele senza la pecchie.
Honey is sweet, but the bees sting.