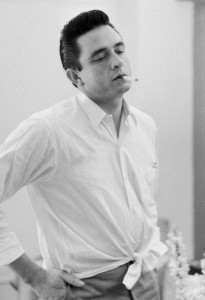 Johnny Cash is many peoples favorite country singer and a prolific song writer and speaker as well. Born February 26, 1932 in Kingsland, Arkansas, he went on to become famous worldwide. Mr. Cash was prodcued by Jerry Rubin who also worked with The Red Hot Chili Peppers and lived in Mr. Rubin's Los Angeles mansion in his later years. For more Johnny Cash music visit our "Ring of Fire", remix and cover page.
"Flesh and blood needs flesh and blood, and you're the one I need"
Johnny Cash
"Backstage at the Grand Ole Opry, I got on my knees and told her that I was going to marry her some day. We were both married to someone else at the time. 'Ring Of Fire'—June and Merle Kilgore wrote that song for me-that's the way our love affair was. We fell madly in love and we worked together all the time, toured together all the time, and when the tour was over we both had to go home to other people. It hurt."
Johnny Cash
A concert behind prison walls Johnny Cash, Linda Ronstadt and others
You build on failure. You use it as a stepping stone. Close the door on the past. You don't try to forget the mistakes, but you don't dwell on it. You don't let it have any of your energy, or any of your time, or any of your space.
Johnny Cash
"However, neither he nor anyone else could have become the star Elvis was. Ain't nobody like Elvis. Never was."
Johnny Cash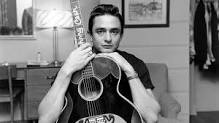 Of emotions, of love, of breakup, of love and hate and death and dying, mama, apple pie, and the whole thing. It covers a lot of territory, country music does.
Johnny Cash
JOHNNY CASH – Live at Montreux 1994

Love is a burning thing
And it makes a fiery ring.
Bound by wild desire
I fell into a ring of fire.
I start a lot more songs than I finish, because I realize when I get into them, they're no good. I don't throw them away, I just put them away, store them, get them out of sight.
Johnny Cash
I think it speaks to our basic fundamental feelings, you know. Of emotions, of love, of breakup, of love and hate and death and dying, mama, apple pie, and the whole thing. It covers a lot of territory, country music does.
Johnny Cash
Johnny Cash Live at Beat Club 1972

There's always rhythm going in my mind. … I'm either singing them — June will tell you, I'm either singing them, or I have got the beat going from one, or I'm writing one.
Johnny Cash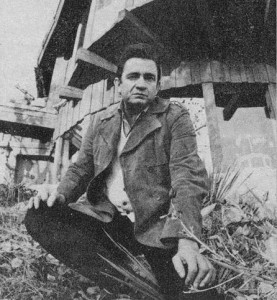 You can ask the people around me. I don't give up. I don't give up… and it's not out of frustration and desperation that I say I don't give up. I don't give up because I don't give up. I don't believe in it.
Johnny Cash
I love to go to the studio and stay there 10 or 12 hours a day. I love it. What is it? I don't know. It's life.
Johnny Cash

"The beast in me
Is caged by frail and fragile bars."
― Johnny Cash
April 4th 1986: Johnny Cash consert in Stavanger, Norway

"I wear the black for the poor and the beaten down,
Livin' in the hopeless, hungry side of town,
I wear it for the prisoner who has long paid for his crime,
But is there because he's a victim of the times.
I wear the black for those who never read"
Johnny Cash