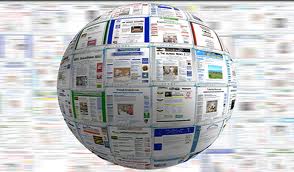 You can read newspapers from around the world here. We also have created our news feeds for News, Music, and the environment.
If you have a newspapers, magazine or blog to suggest please fill out this form.
Read our own Language News blog featuring news feeds from around the world, interviews, and giveaways.
EUROPEAN LANGUAGES: Albanian | Bosnian | Bulgarian | Croatian | Czech | Danish | Dutch | Estonian | Finnish | French | German | Greek | Hungarian | Icelandic | Italian | Latvian | Lithuanian | Macedonian | Norwegian | Polish | Portuguese | Romanian | Russian | Serbian | Slovak | Slovenian | Spanish | Swedish | Turkish | Ukrainian
ASIAN LANGUAGES: Azerbaijani | Chinese | INDIAN LANGUAGES | Indonesian | Japanese | Korean | Malaysian | Nepali | Pushtu | Sinhalese | Thai | Urdu | Vietnamese MIDDLE EASTERN LANGUAGES: Arabic | Persian | Hebrew | Turkish
English Language Foreign Newspapers
World English News