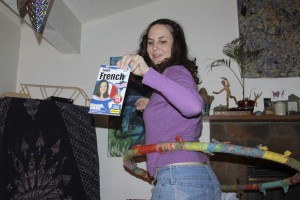 Good news is what makes the world go round. The latest invention, a new word, a good act, free language courses.
Today's good news comes from an excellent Seattle Times article about Jefferson Award winner Cindy Nofziger, who has built 12 schools in war-torn Sierra Leone.
Cindy is a physical therapist for Seattle Public Schools and the state winner of the Jefferson Award, the "Nobel Prize" of public service.
Read more at the Seattle times,
http://bit.ly/y1Zzgy
Right on this site we have some great news too! Recently we built over 100 new video pages with foreign music,
cartoons in different languages and free language lessons and travel videos!
See http://multilingualbooks.com/wp/videos/ to get to most of these, for cartoons check out http://multilingualbooks.com/wp/cartoons/cartoons-and-videos-from-around-the-world/
PS Now you can download a free 1-2 hour course in 20 languages

Just fill out this short form and I will send a link.
http://multilingualbooks.com/fsi-samples.html