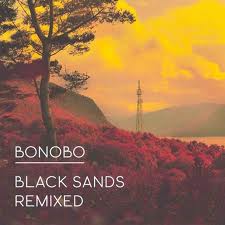 "The long-awaited Black Sands Remixed by Britain's electronic genius Bonobo is finally here. An impressive range of tracks, atmospheric to say the least and visual in how the delightful sounds transcend the listener to a whole new place, on a whole new level, it's difficult not to get zapped into the pulsating rhythm of the tracks. Unpredictable in style, the tracks are melodically chaotic in a simply beautiful way. For every book that is un-put-downable, this album is just as addictively unstoppable, keeping you hanging onto every note, insatiably intrigued for the next.
Prelude alone (Lapalux's Fnger on the Tape remix) makes for an impressive start to the album, drawing you into some kind of echo in a mystical place: have a listen and you'll know what I'm talking about. The more upbeat 'Ghost Ship' track is another little beauty, peppered with keyboard trills, slightly bluesy in parts and positively energetic. And another thing: you know when you're onto the work of a pure genius when man-made electronic sounds recreate a totally natural, unspoilt sound like drips of water rhythmically dancing to nature.
Though influenced by British styles in some ways, Bonobo has that unique knack of giving all of his music that international twist, that faraway feel, through the use of oriental sounds and instruments, always true music to my ears. But to label this all as just music, I fear, would be to not do it justice: it's a journey. And in the very depths of this other world that Bonobo and his team of remixers so vividly create, an effervescent masterpiece lies. "
Gabriella White on grooving to Black Sands Remixed by Bonobo – the ultimate travel album for 2012.