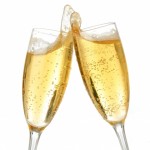 In preparation for the end of 2011 and the beginning of 2012 this weekend, I'm brushing up on new year's customs from around the globe. I'll share a few of my favorites with you.
In Spain one eats las doce uvas de la suerte (the twelve grapes of luck) at midnight. Each grape represents a month of the coming year. Feliz año nuevo!
In the Netherlands they serve doughnuts called olie bollen (oil balls). Ring-shaped treats symbolize coming full circle, and eating them brings good fortune. Gelukkig Nieuwjaar!
Wassail is Gaelic for "good health" and is served on New Year's Eve. Athbhliain faoi mhaise dhuit!
Ancient Persians exchanged eggs for good luck. سال نو مبارک Sâle no mobârak!
On New Year's Eve, you kiss the person you hope to keep kissing, but when celebrating at a Scottish Hogmanay party, it is customary to try to kiss everyone in the room after the midnight bells. Bliadhna mhath ur!
To hear "Happy New Year!" as it's spoken in fifty other languages, check out this video at Simple English News.
And Happy New Year to you all!